Description
As a continuance of the F411 chip, the V5 FC board is upgraded from the F4 20A V3 FC board. F411 4S 20A Toothpick Brushless Flight Controller V5 adopts BMI270 gyro instead of MPU6000 on V3 board. With two integrated plug&play ports for receiver and HD digital VTX, it is easy to install and requires less solder work. Besides, the board is a solid value for durable use thanks to the high-quality PCB material and enhanced production process.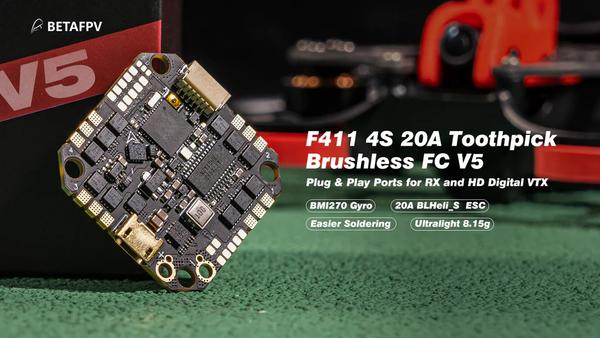 Bullet Point
With a large pad to solder, it is easy to solder external electronics. In addition, the V5 board features plug&play ports for the receiver and HD digital VTX, which requires less solder work for convenient installation.
High-quality MOSFETs are applied to F411 4S 20A FC V5 to handle 20A continuous current and reach 25A peak current.
The motor solder pads are reinforced by thick copper and edge plating technology, allowing lower resistance for more current on motors.
F411 4S 20A FC V5 reserves the UART ports layout, UART1 for RX, UART2 for DJI OSD or Analog VTX, and UART6 for spare usage, more convenient for pilots to solder.
Come with a 25.5*25.5mm whoop mounting pattern, this board can be added to both the toothpick drone and the cinematic whoop quadcopter frame like Pavo25 and X-knight 35.
Specification
Flight Controller
CPU: STM32F411CEU6 (100MHZ)
Six-Axis: BMI270 (SPI connection)
Mounting Size: 25.5*25.5mm (M2 Anti-vibration rubber damper available)
FC Firmware: betaflight_4.3.x_BETAFPVF411
OSD: Built-in Betaflight OSD (OSD chip: AT7456E)
Receiver: SBUS/CRSF/DSMX Receiver
BEC: 5V 3A
Built-in current sensor
Weight: 8.15g
ESC
ESC Chip: SILABS EFM8BB21F16G-C
Support D-shot150, D-shot300, D-shot600, Oneshot125, Multishot, PWM
Input voltage: 2S-4S Lipo
Continuous current: 20A
Peak current: 25A
Firmware: G_H_20_REV16_7.HEX (Default BLHeli_S), BLUEJAY (Optional)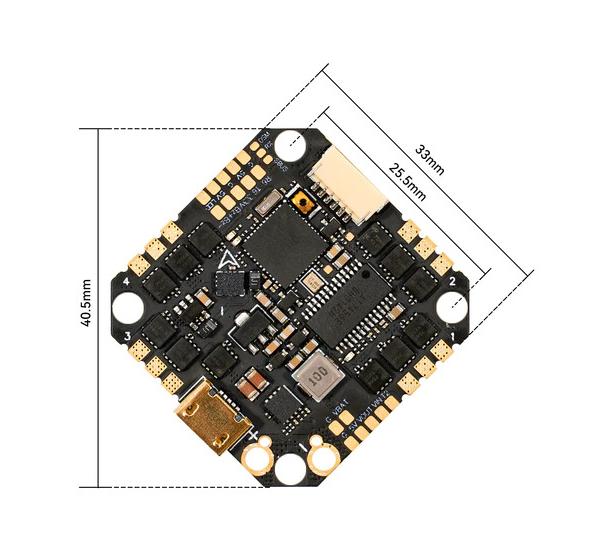 Parameters
| | |
| --- | --- |
| ESC firmware | BLHeli S |
| BEC | 5V/3A |
| OSD | yes |
| Mounting pattern | 25.5x25.5 mm (whoop) |
| voltage | 2-4 cell (7.4V-14.8V) |
| Weight | 8,28 g |
Csomag tartalma
1 x F411 4S 20A Toothpick Brushless Flight Controller V5 BLHeli_S (BMI270)
1 x Cable Pigtail (XT30)
1 x 6-Pin Connector for Digital VTX
1 x 4-Pin Connector for RX
4 x M2x12 Screws
8 x M2 Nuts 
4 x M2 Anti-vibration rubber dampers
Reviews
There are no reviews for this product.