SEQURE SI012 Pro Intelligent OLED Electric Soldering Iron
Manufacturer:

Model:

Sequre_SI012_Pro

-Suitable for both long and short soldering iron tips, plug and play, the maximum temperature is 450℃/842℉.
- Working power supply: support PD3.0, QC2.0,DC12V-25V, 3S-6S battery.
-0.91 inch OLED display, the brightness display can be adjusted.
-Built-in buzzer to remind, automatically heat up when power on, turn it on or off as you like.
-Intelligent temperature control algorithm, supports temperature compensation and temperature self-calibration.
-The shell is made of transparent high temperature resistant fireproof PC environmental protection material.
- The sensitivity can be set to reject the interference of environmental factors.
- Support ℃/℉ switching, left and right-hand screen flip.
- Low voltage protection, high temperature and high voltage alarm, safe and reliable.
- Support user-defined LOGO and firmware upgrade.
Description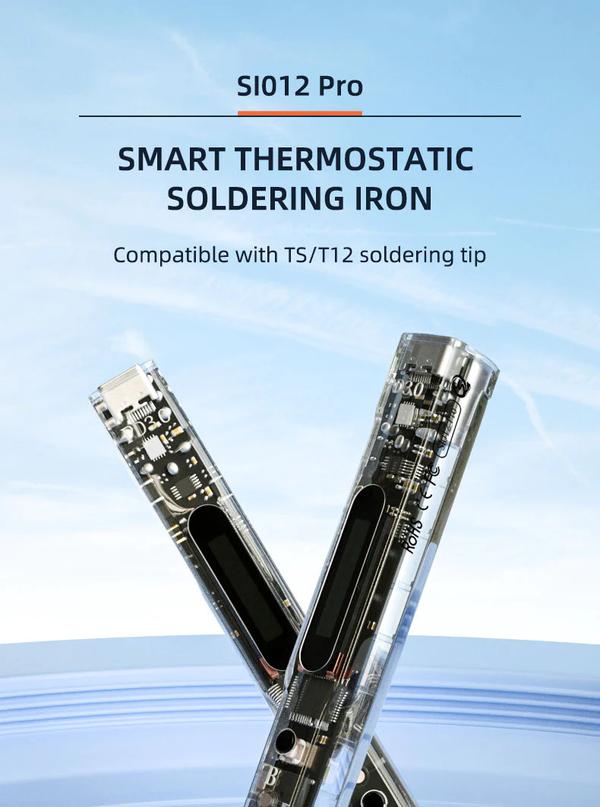 Parameters
| | |
| --- | --- |
| Power | 60W |
| Power supply | DC12-24V |
| | TYPE-C interface |
| Temperature range | 100-400 ℃ (Adjustable) |
| Temperature stability range | ± 50 ℃ |
Package contents
1 x Host
1 x TS-B2 Soldering iron tip
1 x Manual
1 x Soldering iron stand
1 x Screw pack
1 x Hexagon wrench
Reviews

1 rating





Csaba
|

14/03/2023
Kiváló! Kicsi, könnyű, kényelmes fogású. A beállítások nem egy agysebészet, bár kicsit szoknom kell. Hamar felfűt, nagyon jól korrekciózza a hőmérséklet változást. Nem sül hozzá a kezed hosszabb használat után sem.
Excellent! Small, light, comfortable grip. The settings are not brain surgery, although it takes some getting used to. It heats up quickly and corrects temperature changes very well. Your hands won't burn even after prolonged use.